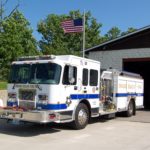 (LOFD Chief Mark Amsinger is presented with grant check from Vincent Belfiore, Resource Assistant from the Missouri Department of Conservation)
The Lake Ozark Fire District is on the receiving end of, nearly, a four-thousand dollar grant to go toward equipment needs when it comes to brush and wildfire fighting efforts. Chief Mark Amsinger says the grant goes a long way in replenishing the coffers so the district can use current funding on other equipment needs.
NEWS-072617-LOFD GRANT

- 25th July 2017
The grant, specifically, was used to purchase additional brush fighting helmets, goggles and head lamps for the helmets. The grants were awarded by the Missouri Department of Conservation in conjunction with the U.S. Forest Service and Volunteer Fire Assistance Program. All totaled this year, there were 169 fire districts receiving a combined total of more than $360-thousand for the cause.