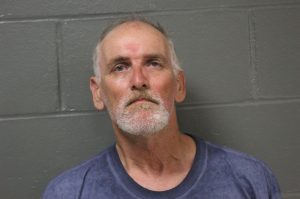 A drug bust has one man from Montreal facing multiple charges.
It went down on Wednesday after police got a search warrant.
NEWS-8-7-2020 DRUG BUST 1

- 8th August 2020
Captain Chris Twitchel with the Camden County Sheriff's Office.
He tells KRMS News 56-year-old Daniel Cole of Montreal was arrested after investigators found methamphetamine, money and other paraphernalia that suggested distribution.
***PRESS RELEASE***
On 08/05/20 The Lake Area Narcotics Enforcement Group and Camden County Deputies executed a search warrant in the Montreal Area. As a result, methamphetamine, currency, and drug paraphernalia used in the distribution and consumption of controlled substances was seized. One male was arrested as a result.
David K Cole age 56 of Montreal was charged with Distribution of a Controlled Substance and Possession of Drug Paraphernalia with a surety bond of $50,000.00.
*The Camden County Sheriff's Office reminds everyone that these charges are merely an accusation and these individuals remain innocent until proven guilty.