Quaker Celebrates Grand Opening Of Eldon Facility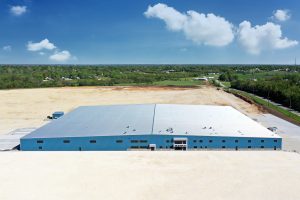 The highly anticipated grand opening of the new Quaker Manufacturing plant in Eldon is today.
Officials say the $65 million dollar facility will provide nearly 300 new jobs in the lake community.
The company based out of nearby Freeburg employs more than 900 people statewide.
It's the first major manufacturing investment in the last 30 years in this region.
The Eldon Career Center will also be partnering with Quaker to offer apprenticeships for high school juniors and seniors, with the goal of transitioning students into full time employment and careers with the company.
Here is their official Press release for Today:
Quaker Windows & Doors will be officially opening the doors to our new Eldon, MO location on Monday, May 18th. The much anticipated new location will expand Quaker's commercial window and door division's manufacturing capacity to meet growing demand for Quaker's innovative window and door products. The first set of new Eldon employees have been training for this day at our Freeburg, MO location, and are excited to lead "Team Eldon" into the facility come Monday. "We are very excited for this day to finally be here and look forward to sharing it with the Eldon community at a grand opening ceremony later this year." said Jason Pratt, General Manager of Quaker's Eldon Manufacturing Operations.
From 2019:
Quaker Window Products, Co. announced plans today to expand their current operations to a new location in Eldon, Missouri. This phased plan is also expected to create 300 new full-time jobs for the region.
"We love it when homegrown Missouri businesses choose to continue growing in our state," Missouri Governor Mike Parson said. "To make this project happen, it took a lot of collaboration between state and local partners, across workforce, economic development and government. We want to thank everyone who was at the table, working for this business and the community of Eldon."
Quaker Window Products, Inc. has been a leader in the window and door industry since 1949. Their current operations consist of their corporate offices along with wood, vinyl, aluminum window and door manufacturing facilities located on two campuses in Freeburg, MO. They currently have over 900 employees and a produce a variety of residential and commercial window and door products that are delivered nationwide.
"Quaker has had a great experience working with State officials, the Missouri Department of Economic Development and the City of Eldon to make this project possible" said Quaker Window Products CEO Kevin Blansett. "We are excited to not only be bringing new jobs to the region, but long-term career opportunities to the people of Eldon and surrounding communities as we grow together."
A number of state and local partners worked together to ensure Quaker chose to remain and grow in Missouri.
"Quaker Windows is at the top of their industry, in terms of both quality and customer service," Lt. Governor Mike Kehoe said. "Given the continued steady growth of the company, I am certain they were heavily recruited to expand in other states. Quaker is a fantastic corporate citizen, and I am pleased that they have chosen to continue to grow their product lines in central Missouri, using central Missouri employees."
"This is a great thing," Mayor Larry Henderson said. "We are glad to have them in our community! I think this is in the best interest of the City and beneficial to all parties."
Pivotal in the company's decision was the availability of a quality workforce, which prompted significant involvement on behalf of the local public school district. The Eldon Career Center will be partnering with Quaker to offer apprenticeships for high school juniors and seniors, with the goal of transitioning students into full time employment and careers with the company.
"Our vision is to create a community that our kids want to come back home to," Matt Davis, Superintendent of Eldon Schools said. "We know if we provide them with the right skill set, they will be able to get a starting job at Quaker that pays more than the current median household income in Eldon. This opportunity will improve the quality of life for our kids and families."
The Eldon School District has approximately 1,900 students, and of those students 1,100 qualify for free and reduced lunch. Despite having such a high poverty rate among students, the Eldon public school system outperforms many area districts.
Other key contributor's to making this project a reality includes Ameren, Missouri Department of Transportation, Eldon Development Corporation, and the Eldon Area Chamber of Commerce.
"We hope this is the beginning of more businesses – and jobs – coming to Missouri thanks in large part to a new state energy law that went into effect in late August," said Michael Moehn, president of Ameren Missouri. "This law enabled Ameren Missouri's new Smart Energy Plan, which makes Missouri an even better place to do business. That's because Ameren Missouri is now able to offer one of the most favorable economic development rate incentive programs in the country to keep energy costs low for new and expanding businesses."
"This is excellent for Eldon. We are excited Quaker gave the City of Eldon this opportunity. It took a lot of people on both sides to make this happen, and it wouldn't have come together without everyone working together to pinpoint all the final details," City Administrator Debbie Feeback said.
Quaker will be purchasing over 100 acres in Eldon for the construction of the new 200,000 square foot manufacturing facility. Quaker plans to begin construction this fall and will be developing job training opportunities as early as this spring in preparation for manufacturing operations to begin in the fall of 2019.