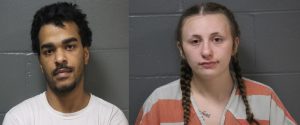 A Roach man is facing fraud charges after selling LED signs to business owners in the Lake Area, but never delivering them.
According to the Camden County Sheriff's office, 54-year-old Eric Sutton was working under the assumed company name of LED Sign Corp LLC, and was wanted for similar felony fraud charges in the St. Louis area.
"We are seeking the public's assistance in locating any other fraud this gentleman's been involved with around the lake, so that we can go ahead and wrap this up."
Captain Chris Twitchel tells KRMS News they believe only business owners were targeted by Sutton.
"Judging from the amount of money that was frauded, several people were frauded over $20,000 each, so I would say they are large signs for the front of their buildings."
Sutton was later picked up on the St. Louis area warrants by deputies in Miller County, and is currently being held with no bond.
The Sheriff's office is asking for any other businesses that may have been defrauded by Sutton to come forward this week.
***PRESS RELEASE***
On 01/20/21, investigators began to receive multiple reports of fraud. Investigators learned a male subject had been selling LED signs to multiple business owners at the lake and then not delivering the product. Multiple victims are currently involved, and others are believed to have not reported the fraud yet. Through the investigation a suspect was developed by the name of Eric Sutton age 54 of Roach, Missouri. Sutton is working under the assumed company called LED Sign Corp. LLC. Sutton was currently wanted for similar felony charges out of Jefferson County and St. Charles County Missouri.
We are asking for the public's assistance in locating any further victims of this crime.  If you suspect you have been a victim of this case, please contact the Camden County Sheriff's Office to report it so we can continue the case. The investigation is currently ongoing, and charges are pending. Sutton was later arrested on his warrants and remains at the Miller County Sheriff's Office on no bond.