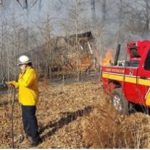 Amid the recent focus on school safety, a Missouri organization is hoping to turn make workplaces more safe as well.  The Missouri Association of Manufacturers will be holding an annual seminar entitled "Run, Hide, Fight – Surviving an Active Shooter or Violent Intruder."
NEWS-3-17-18 Kim Inman 1

- 17th March 2018
Having a workplace safety plan in place is actually a requirement under federal guidelines.  MAM CEO Kim Inman says they started hosting the training courses in response to events right here in Missouri.
NEWS-3-17-18 Kim Inman 2

- 17th March 2018
The course is open to employers, workers, and anyone interested.  It's scheduled for May 4th in Springfield.  For more information and registration details, go to www.missourimanufacturers.org.