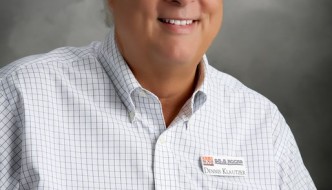 It's been almost 2 years since I took office as Presiding Commissioner of Camden County. Anyone who has been the owner of a small business knows about the long hours involved. During my career as a surveyor, that was the case as well. So, I remember asking my wife Lyn when I ran for office: "How hard could it be"? Now that's the joke at the end of the day, when it's been a really bad day.  This job is far and away more difficult than I expected. With that being said, I'm really looking forward to 2017 as a year to make many new things happen.
I thought it would be appropriate to give the public a report on what is going on in Camden County Government. I plan to do this on an annual basis going forward, during my term as Presiding Commissioner.  This is my opportunity to directly tell the citizens what the commission has accomplished, and what we have planned for the future of our county.
While we've had some issues this year, we've gotten a lot accomplished as well. So, with that said, I'd like to take stock of 2016, as well as what we can do to improve the quality of life in Camden County in 2017.
Prior to running for office I had a great deal of concern regarding two issues in Camden County that had a great impact on our county. The first was the FEMA flood plain maps, adopted by our county in 2011. It was obvious to me that the maps were badly flawed when they were adopted. The presiding commissioner at that time should have requested a review, and a new hydrologic study to get the maps corrected. That was not done. Instead, he just signed off, and they were adopted by Camden County Government.
Shortly after they were adopted, and long before I decided to run for office, I began to work on getting these maps fixed. The slow process of showing the Federal Government the problems with the maps moved forward in 2014. 1st District Commissioner Bev Thomas and I worked together to keep the process moving forward. In 2015 a new hydrologic study was done by FEMA.  In 2016 the results were announced and confirmed the maps were in error.  So, in 2017 the Camden County Commission will be adopting new flood maps that will remove thousands of homes from the flood zone. This will save affected homeowners in Camden County hundreds of thousands of dollars annually in flood insurance premiums. I'd like to thank all of people involved in helping to get this done. It's really satisfying to work on a problem with a group of citizens, and actually get results. We stood our ground on this issue, and we won!   This is an example of government actually getting something done. I look forward to signing these maps into law in 2017 and moving on to the next item on the checklist.
The other area of great concern that prompted me to run for office was Camden County Planning and Zoning. The economic boom at the lake prior to the adoption of planning and zoning precipitated a rush to adopt a universal land code. The result was the adoption of a code from another county that was not at all like our unique lake area. We've been paying the price ever since. In particular, there are many regulations in our Universal Land Code (ULC) that have no useful purpose other than to drive up the cost of housing. The recent housing study has confirmed what the commission had suspected with regard to affordable housing at the lake. It's clear that changes need to be made to provide a broad spectrum of housing options, and reduce costs.
After I was in office, Bev and I moved to get the ball rolling on a complete overhaul of the ULC.  We are now underway with the first comprehensive rewrite of the ULC since it was adopted in 2004. The goal is to make this ULC more user friendly for our citizens, and reduce the cost of compliance. I anticipate that the Camden County Commission will be adopting this new ULC in 2017. We must take bold steps to reduce the cost for housing in Camden County.  Making these changes is vital for the future economic vitality of our county.
Even though we have made some really important positive steps forward for the future of our county, we've also had our share of problems. Probably the biggest was the "IT issue" and a possible breach of our computer systems. Getting "hacked" is something that everyone has seen in the national news almost every day this year. It has become a common problem in business and government, as well as personally.  It's something you hope never happens to you.
Unfortunately, it appears we were visited. Fortunately, the investigation revealed problems with our outdated hardware and software that will allow us to avoid a far worse problem in the future. I was told that on a scale of 1 to 10, our problem was a 2 or a 3. I'm thankful we avoided an 8, 9, or a 10.  Although it has been painful and costly to bring our systems up to date, we should have a much better handle on this going forward. It is vital to the operation of county government that we keep these systems up to date, and have the necessary security in place. The Camden County Commission has requested a plan be developed for ongoing future upgrades to stay current.
The problems with our IT department have also revealed some issues regarding the operation of the courthouse administration. Although I would be very surprised if any money is missing, we need to confirm that we are following correct procedures as related to the administration of government. It's apparent to me that we need a comprehensive audit to make sure we are exercising best practices with handling the people's money. Although we do an annual audit now, the audit only determines if all of the accounts balance. This audit does not determine if we are complying with all state and federal laws. I don't think there has been a comprehensive audit since the county went to first class status. It appears that the State of Missouri really does not have a lot of interest in doing an audit of a first class county. We may need to request a more in depth audit from our accounting firm that also looks into our methods of operation as well. The citizens of Camden County assurance that we're doing business the way it's supposed to be done.
As far as the future is concerned, the best days of our county are ahead. This year the Lake of the Ozarks was named the number one recreational lake in the US, in a USA Today reader's pole. Camden County's Ha-Ha Tonka State Park was named a top 5 State Park in the Nation. Sales tax numbers continue to increase every year now.
Camden County has a bright future ahead if we take appropriate steps to assure that future. This is where Camden County Government can actually have a great impact. Taking aggressive steps to reduce the cost of housing is a step in the right direction. We need to also look at what we can do to create high paying jobs as well. One area where this could happen is in the health care systems.
Incoming 2nd District Commissioner Don Williams and I have had a couple of meetings already regarding this. 1st District Commissioner Beverly Thomas has also said that we need to focus on what we can do to make our county more economically diverse. The Camden County Commission is planning to have discussions with members of the Lake Regional Board of Directors, regarding what county government could do to help our health care systems expand.
The Camden County Commission will be looking at what we can do in 2017 to improve the quality of life in our county. The focus this year will be to find ways to directly reduce the cost of housing, provide new job opportunities, and look at new ways to make improvements to our roads and other infrastructure. As we go forward in 2017, the commission will be working on long term plans to achieve these goals.
I'd like to take this opportunity to welcome incoming 2nd District Commissioner Don Williams. I've spent enough time with Don by now to know that his is going to be a pleasure to work with. He is an intelligent, practical man who just keeps asking questions until he gets to the bottom of an issue. Then he looks to find solutions. He is going to be a big asset to the Camden County Commission.
I am confident that you will see longtime 1st District Commissioner Beverly Thomas, Don, and I working together as a team beginning January 2nd, 2017. I like to work hard at what I'm doing, and I've always been that way. I'm really looking forward to working with this team to accomplish our goals for the good of Camden County.
Finally, the Camden County Commissioners know that we were elected by you, to serve you. We are your servants, charged with administering local county government for you. If you have an issue that we can help, we're here for you. If you have ideas on how we can be more effective, we'd love to hear your ideas.
Sincerely,
Greg Hasty, Presiding Commissioner
Camden County, Missouri