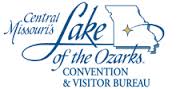 Last week, the Lake of the Ozarks Convention and Visitor Bureau's Annual Dinner recognized several for their leadership and volunteerism in the community.  One of the bigger awards included the Partners in Tourism Award, given to David and Phyllis Marose, operators of Putt-N-Stuff.  After moving to the Lake in 1964, they purchased and sold real estate, helping to develop many of the businesses we see in the area today.
With over 300 attendees represented numerous local business owners, community and organization leaders, Missouri State Representatives, Missouri Senators, Chamber of Commerce Directors and Missouri Division of Tourism Staff.  The evening started with a networking reception centered around a large silent auction.  After a wonderful dinner the presentation began.
The following CVB & TCLA board members were recognized for their volunteerism and leadership in promoting tourism in the Lake Area;
CVB Board of Directors
ENTERTAINMENT/ATTRACTIONS – Darin Keim, Big Surf Waterpark (Secretary)
GENERAL BUSINESS/MANUFACTURERS – Jason Hynson, Wonderland Camp
LODGING – SMALL CATEGORY- Sherry Shippee, Crystal Water Villas
LODGING – MEDIUM CATEGORY – Dexter Whitney, Camden on the Lake
LODGING – LARGE CATEGORY – Carl Clark, Tan-Tar-A Resort
MARINE BUSINESSES – Darrell Law, Bridgeport Boat Rentals (President)
PROFESSIONAL SERVICES – Shayla Viele, Columbia College Lake of the Ozarks
REAL ESTATE/DEVELOPERS – Kathy Wise, RE/MAX Jane Kelly Team (Treasurer)
RETAIL – Joni Walden, Blinds and More
RESTAURANTS – Mark Barrett, Dog Days/ Wobbly Boots/ Shorty Pants
UTILITIES/FINANCIAL INSTITUTIONS – Jim Judas, Central Bank (Vice President)
CHAIRMAN OF THE BOARD – Bill Johnson, Eagle's Nest Resort (Past President)
AT-LARGE MEMBER – Mike Waggett, MSW Interactive Designs, LLC.
AT-LARGE MEMBER – Marcus Sykora, State Farm Insurance
AT-LARGE MEMBER – Phyllis Marose, Putt-N-Stuff
AT-LARGE MEMBER – Samantha Edmundson, The Lake Today
TCLA Board of Directors
Dexter Whitney – Camden on the Lake
Fred Dehner – Tan-Tar-A Resort
Larry McAfee – The Lodge of Four Seasons
Bill Johnson – Eagle's Nest Resort & Properties
Larry Jones – Osage Beach RV Park
Mark Krantz – Keys to the Lake Lodging
John Peters – Cross Creek RV Park
Sherry Shippee – Crystal Water Villas
Michael Spriggs – Point Randall Resort
Bob Renken – Old Kinderhook
Sue Westenhaver – Inn at Harbour Ridge B&B
The CVB & TCLA Staff were then recognized;
CVB & TCLA Staff
Jenn West, TCLA Sales Manager
Lagina Fitzpatrick, TCLA Director of Group Sales
Rebecca Green, Public Relations Manager
Lance Utley, CVB Director of Member Services
Darren Rucker, CVB Marketing Consultant
Shawna Landis, CVB Marketing Consultant
Scott Gladden, CVB Art Director
Evan Lampe, CVB Graphic Designer & Social Media Manager
Eric Homan, CVB Webmaster
Chris Clark, CVB Bookkeeper
Debbie Gholson, CVB Office Manager
Nancy Witham, CVB Part-Time Distribution & Receptionist
Roy Witham, CVB Part-Time Distribution