Tornado Watch CANCELLED For Portions Of The KRMS Listening Area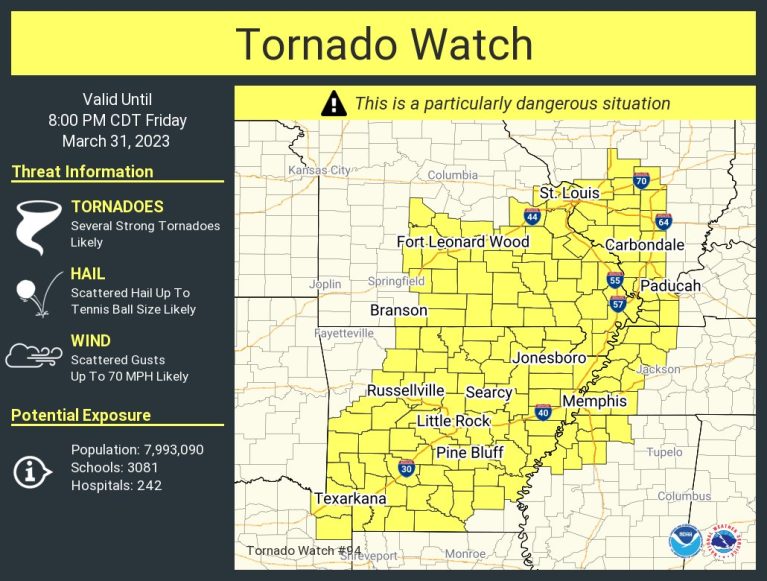 A tornado watch has been issued for parts of Arkansas, Illinois, Kentucky, Mississippi, Missouri, Tennessee and Texas until 8 PM CDT and has been canceled for the entire Lake Area.
KRMS will be watching for the development of severe weather and will bring you the latest as it comes in.
Counties in the Lake Region that affected by the watch include Benton, Camden, Miller, Morgan, Hickory, Dallas, Laclede, Pulaski & Maries counties.
Additionally the Lake Area remains under a Red Flag Warning and a Wind Advisory.
...RED FLAG WARNING REMAINS IN EFFECT FROM 2 PM THIS AFTERNOON TO
10 PM CDT THIS EVENING FOR STRONG WIND AND LOW HUMIDITY FOR
SOUTHEAST AND SOUTHWEST MISSOURI...

* AFFECTED AREA...In Kansas...Fire weather zones 073, 097, and
  101. In Missouri...Fire weather zones 055, 056, 066, 067, 068,
  069, 077, 078, 079, 080, 081, 088, 089, 090, 091, 093, 094, 095,
  101, 102, and 103.

* WIND...West to southwest winds of 30-40 mph with gusts of 50-
  60 mph.

* HUMIDITY...18-28 percent.

* IMPACTS...Any fires that develop will likely spread rapidly.
  Outdoor burning is not recommended.

PRECAUTIONARY/PREPAREDNESS ACTIONS...

A Red Flag Warning means that critical fire weather conditions
are either occurring now, or will shortly. A combination of
strong winds, low relative humidity, and warm temperatures can
contribute to extreme fire behavior.

-o-


...WIND ADVISORY REMAINS IN EFFECT FROM 1 PM THIS AFTERNOON TO
1 PM CDT SATURDAY...

* WHAT...West winds 20 to 30 mph with gusts up to 55 mph
  expected.

* WHERE...Benton, Morgan, Miller, Maries, Hickory, Camden,
  Pulaski, Phelps, Dallas and Laclede Counties.

* WHEN...From 1 PM Friday to 1 PM CDT Saturday.

* IMPACTS...Gusty winds could blow around unsecured objects.
  Tree limbs could be blown down and a few power outages may
  result.

PRECAUTIONARY/PREPAREDNESS ACTIONS...

Use extra caution when driving, especially if operating a high
profile vehicle. Secure outdoor objects.