Two Vacant Houses Destroyed by Fire in the Gravois District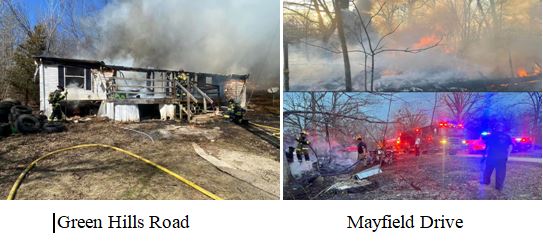 It was a busy day, Monday, for the Gravois Fire District having to respond to two different house fires.
The first, which is under investigation, was reported during the afternoon hours to a vacant house in the 33-thousand block of Green Hills Road. Assisting at that scene were personnel from the Sunrise Beach, Lake Ozark and Mid-County fire districts along with Lake West Ambulance.
The second blaze was reported shortly after 6:00 Monday night when another vacant house went up in flames in the 13-thousand block of Mayfield Drive. The home and a car were destroyed and heavy damage caused to a nearby log cabin home which also sparked a one-acre brush fire. Versailles Rural, Sunrise Beach and Moreau fire personnel along with Mid-MO E-M-S assisted at that scene.
The cause of the second fire is being blamed on what had been an adjacent trash fire. There were no injuries reported from either of the fires.