BREAKING: Camden County Standing by Second-Amendment Preservation Act vs. the ATF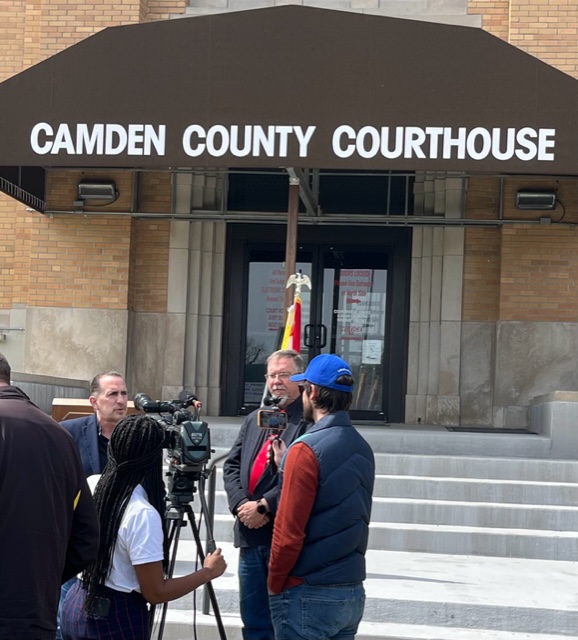 The Camden County Commission, on Friday, announced its intentions to stand by the statewide Second Amendment Preservation Act when it comes to the ATF trying to enforce Federal gun laws and regulations in the State of Missouri. The issue came to light earlier this week when the Missouri Supreme Court decided the Second-Amendment Preservation Act will be sent back to the Circuit Court for further review and the ATF contacting the planning and zoning office requesting information about firearm dealers in the county. Presiding Commissioner Ike Skelton says the actions by the ATF are really nothing more than the Federal government coming after our firearms.
NEWS-04-07-2023 CAMDEN-ATF-1
First-District Commissioner James Gohagen chimed in with his thoughts saying that the ATF isn't worth much.
NEWS-04-07-2023 CAMDEN-ATF-2
Sheriff Tony Helms was also on hand and says, until the issue is fully resolved in the courtroom, it'll be business as usual for his office.
NEWS-04-07-2023 CAMDEN-ATF-3
County Commissioners, the sheriff, County Attorney Jeff Green and Country Treasurer Kendra Hicks all signed off on a reply letting the ATF know that their actions constitute attempted coercion of county employees to break the law in Missouri by providing the information requested. A copy of the reply by Camden County and full audio transcript of the press conference follows.
FULL PRESS CONFERENCE
NEWS-04-07-2023 FULL PRESS CONFERENCE CAMDEN COUNTY VS ATF