High-Speed Pursuit Lands a Lake Ozark Man in the Miller County Jail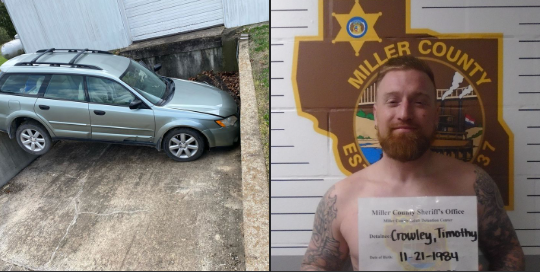 A Lake Ozark man wanted on a parole warrant led authorities on a high-speed pursuit before crashing the vehicle he was driving into a concrete loading ramp and continuing to flee on foot before being taken into custody  in Miller County.
Sheriff Louie Gregoire says it started on Monday when deputies and detectives with the Mid-Missouri Drug Task Force attempted to pull over 38-year-old Timothy Crowley.
Crowley drove off Highway-54 across a grassy median and onto Allen Road before making his way to Midway Road where he crashed the vehicle and fled on foot into a wooded area.
He was taken into custody a short time with the subsequent investigation allegedly uncovering methamphetamine and fentanyl in the vehicle.
Crowley was taken to the Miller County and held without bond on the parole violation and has since been charged with possession of a controlled substance and felony resisting arrest in connection to the pursuit.
Bond on the new charges was set at $75,000 with the added condition of GPS monitoring.