Miller County Drug Bust Nets Two from Independence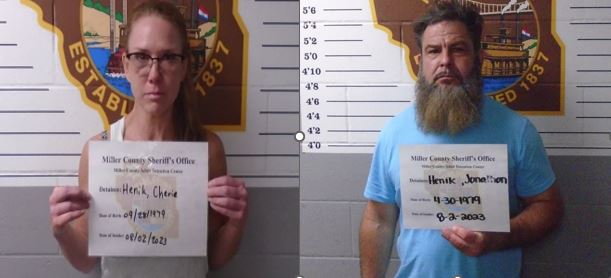 A two-month long narcotics investigation by the Miller County Sheriff's Office and the Mid-Missouri Drug Task Force comes to an with the arrests of two people in the Camp Bagnell area outside of Eldon.
Sheriff Louie Gregoire says search warrants were executed for two campers and two vehicles with the result being more than 140 grams of cocaine, about 60 grams of meth, almost four pounds of marijuana, some psychedelic mushrooms, four handguns, a firearm suppressor and cash all seized from the scene.
44-year-old Jonathan Henik, of Independence, faces 19 felony counts including trafficking, delivery and possession of a controlled substance along with unlawful possession of a firearm and possession of an illegal weapon. He's being held on a $450-thousand bond.
Also arrested was 43-year-old Cherie Henik, also from Independence, who's charged with possession of a controlled substance and drug paraphernalia. She has apparently been released on a $25-thousand bond.